L-Lysine cannot be produced by the body and must be obtained through diet or supplementation.
Read our article – L-Lysine the best and only key to collagen and healthy body in 2023 (1)
In general, it is best to consume EAAs in a balanced and varied diet. However, for individuals who may not be able to consume and/or extract enough EAAs through diet alone, supplementation is key. Please consult with a healthcare provider before starting any supplementation regimen.
There are various L-Lysine rich foods. However, as you may have already read in our main article, the human body generally has trouble digesting, extracting, absorbing, folding and using essential amino acids, including L-Lysine. This comes with aging and appears due to the lack of enzymes
Functions and Benefits of L-Lysine:
It contributes to collagen synthesis and stabilization of the collagen matrix.

Two of the key essential elements in collagen synthesis are L-lysine and vitamin C. One is an essential amino acid and the other is an essential vitamin. None can be produced by the body and need to be taken from outside.

Collagen is an essential structural protein that provides strength, elasticity and support to many tissues, including skin, tendons, ligaments and blood vessels. It's what actually holds our cells together, in a structured and organized form! Without a solid collagen matrix we would be nothing more than a mass of cells of different shapes and sizes.

L-Lysine the key to collagen and healthy body

Lysine participates in protein synthesis.

L-lysine helps decode information stored in mRNA during the translation step, along with other amino acids. Apart from that, it is an essential amino acid that participates in the structure of proteins.

Lysine supports muscle growth and recovery.

Intense workouts put a lot of strain on the body, and an optimal collagen matrix ensures strong connective tissues, reducing the risk of injury. In addition, L-lysine facilitates the production of nitric oxide, known for vasodilation and oxygenation of muscles.

Lysine improves liver function and lowers cholesterol levels.

L-lysine is an essential amino acid involved in the production of digestive and metabolic enzymes that optimize triglyceride and cholesterol levels regulated by the liver.

Lysine improves calcium absorption.

L-Lysine improves calcium absorption from the intestines and potentiates the effects of vitamin D. By forming a strong collagen matrix in bones, calcium is retained in bone tissue in a greater proportion.

Lysine strengthens the immune system.

L-Lysine has significant antiviral activity, especially against simple herpesvirus HVS. It has immunomodulatory effects and stimulates the production of antibodies.

Lysine it can help manage herpes outbreaks.

L-lysine has the ability to reduce the frequency, severity and duration of herpes outbreaks. The HSV virus requires the amino acid arginine to replicate. L-lysine and arginine compete for the  absorption  pathway, and it is thought that increasing lysine levels and reducing arginine levels may help suppress viral replication.

Lysine helps in the synthesis of hormones.

L-lysine has the potential to stimulate the release of growth hormone from the pituitary gland. Growth hormone is essential for growth, development and maintenance of optimal body composition. L-lysine may also play a role in the synthesis of serotonin, known as the "hormone of happiness," as well as other hormones, like all other essential amino acids.

Lysine supports optimal brain activity.

L-lysine is involved in the synthesis of various neurotransmitters, such as serotonin, dopamine and norepinephrine, involved in good mood and pleasure. Optimal levels of lysine contribute to dopamine production, supporting cognitive function, concentration, and motivation. It oxygenates the brain by stimulating nitric oxide synthesis  and reducing inflammation and oxidative stress.

Lysine maintains cardiovascular health.

By engaging in collagen synthesis, L-lysine helps maintain strong , elastic and resilient blood vessels. In addition, it has the potential to reduce arterial plaque formation, known as atherosclerosis. Studies have also shown that L-lysine supplementation can help lower blood pressure levels.

Lysine regulates gene expression.
L-Lysine is the most important beauty-oriented amino acid of all the 9 essential amino acids (EAAs).
This amino acid has many essential roles in various body functions.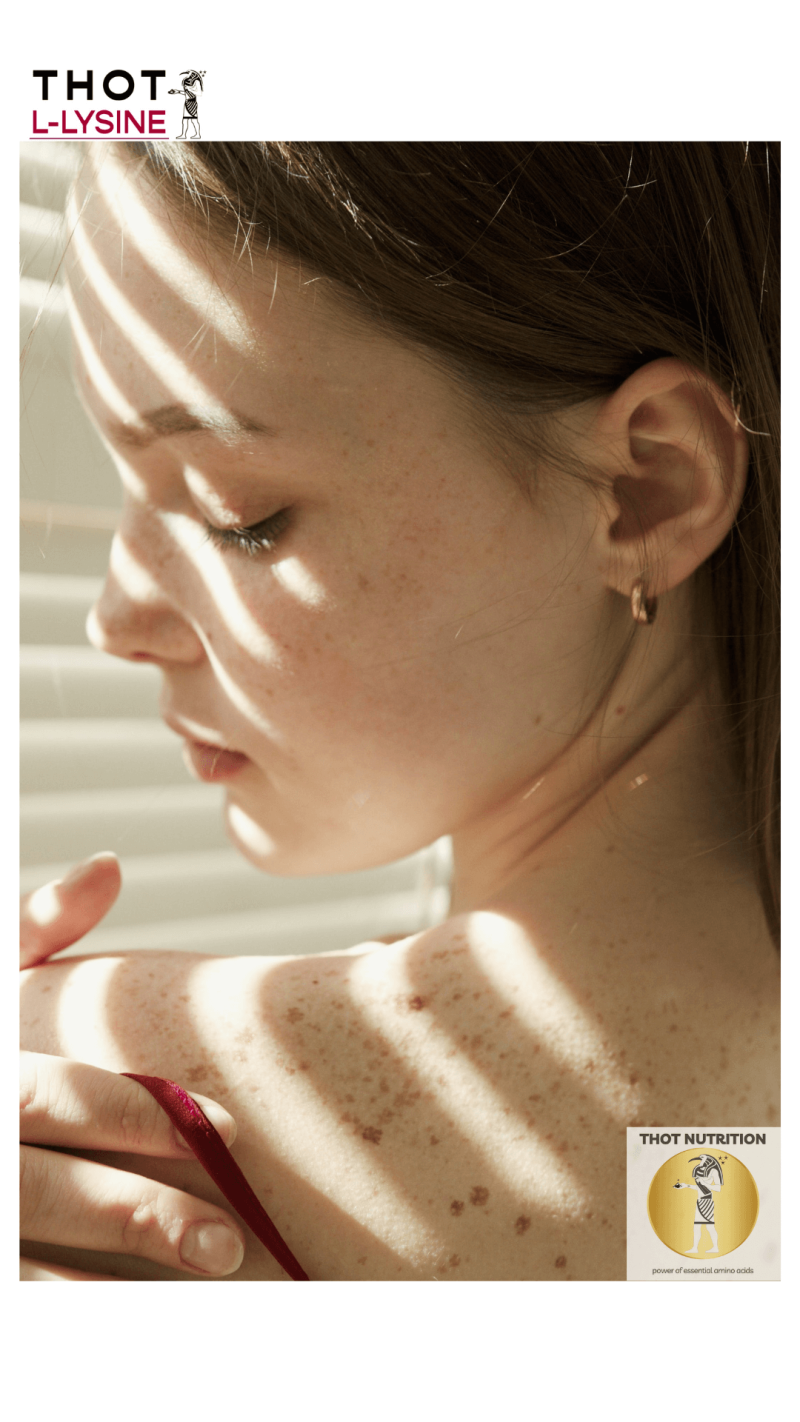 L-Lysine – sustain basic DNA structure; If not in sufficient quantities can cause vitamin B3 deficiency (also known as Niacin), and leads to a very low rate of connective tissue repair. It can also contribute to the release of growth hormone, which significantly helps to restore tissues[2].
Of all the 9 essential amino acids, L-Lysine is a special one when it comes to human body structure, beauty and cosmetics (skin, tendons, blood vessels, cartilages, bones and connective tissue – which anchors cells to each other).
L-Lysine it is known especially for collagen synthesis and for stabilizing the collagen matrix. Collagen is the most abundant protein in our body[1].
It represents between 25-35% of all proteins and 75% of skin. There is an entire industry around collagen synthesis and collagen supplementation. However, few people know the real science behind the production, regeneration and long-time maintenance of the collagen matrix.
[1] Di Lullo GA, Sweeney SM, Korkko J, Ala-Kokko L, San Antonio JD. Mapping the ligand-binding sites and disease-associated mutations on the most abundant protein in the human, type I collagen. J Biol Chem. 2002 Feb 8;277(6):4223-31.
There are 28 known types of collagen the most abundant being type I – 90% (skin, tendon, vasculature, organs, bone), type II (cartilage), type III (reticular fibers) and type IV (basement membrane). The problem is that the most abundant protein in the body depends on two elements that the body cannot produce? L-Lysine and Vitamin C.
L-Lysine is the most effective essential amino acid in skin rejuvenation and it significantly improves our appearance. But L-Lysine does much more than that when it comes to overall health. Together we will discover the details about L-Lysine and its functions, benefits and uses.
[2]https://pubchem.ncbi.nlm.nih.gov/compound/L-lysine
Suggested Usage:
In general, a dose  of 30-60 mg/kg/day (or an average of 2-3 g/day) of L-lysine is sufficient.  The upper limit is around 80 mg/kg/day.
Doses may be adjusted as needed according to the following recommendations:
Adults:
Light physical activity / adult 70 kg: 2-3 / day (30 mg/  kg x d-1)

Moderate physical activity / adult 70 kg: 3-4 / day (45 mg /  kg x d-1)

Intense physical activity / adult 70 kg: 4-5 / day (60 mg /  kg x d-1)
Adolescents:
Light physical activity / adolescent 43 kg: 1-2 / day (35 mg/kg x d-1)

Light physical activity / adolescent 63 kg: 1-2 / day (33 mg/kg x d-1)
Characteristics:
Thot L-Lysine is 100% essential amino acids extracted from PLANTS.
Because of the profesional grade ingredients the amino acids DOES NOT TASTE BITTER.
Easy to swallow. Middle line format.
Amino Acid Utilization factor is 98-99%. AAU or Net Nitrogen Utilization means that almost all Thot Aminos amino acids are used for directly body protein synthesis or other complex amino acids (enzymes, hormones, neurotransmitters, etc)
 Fast absorption (15-30 minutes) due to HCL form of aminos and because there are in direct delivery form to the blood
KOSHER
Free from: sugar and other artificial sweeteners, gluten, dairy products, fat, corn, wheat or cereals
FAST recovery during and after physical and mental/emotional activity.
UPGRADE your colagen production and all connective body tissues. (60% of our overall mass is in fact amino acids, including our bones)
BEST suited for Fasting and Keto diets (Ketogenic Nutrition – The fundamentals of Keto diet – 100% Powerful Ketogenic) since it does not increase the blood sugar spike. (It feeds your body directly with optimal amino acids)
DOWNGRADE the toxins in your body since the Amino Acid Utilization factor is 98-99%.
UPGRADE  your protein (amino acids) intake with all  essential amino acids that the body does not produce without the downside of  sugar and nitrogen load. (
When you eat proteins, 60-70% of you meals transforms in fact in a form of sugar and a form of amino compounds, hence the sugar load and uric acid or other substances that your body needs to eliminate)